Welcome to the online home of the Golden State Recovery, Inc..
You've come to one of the fastest and most cost effective repossession companies in California. We pride ourselves on efficient, expedient and professional service. We are properly licensed, insured and bonded, and maintain an active participation and presence in the California Association of Licensed Repossessors, The American Recovery Association, National Finance Adjusters and The California Credit Union Council in order to ensure up to the minute current legal information and connections statewide in California as well as nationwide.
Let's be sure we are communicating. When we say we are fast, that is true. With that said, we want you to know that we never sacrifice safety for the sake of speed. In actuality, we place safety and the full protection of the lender as our number one priority. We also provide in-depth recovery coverage. Please review the map immediately below to see if your collateral is in any of these cities.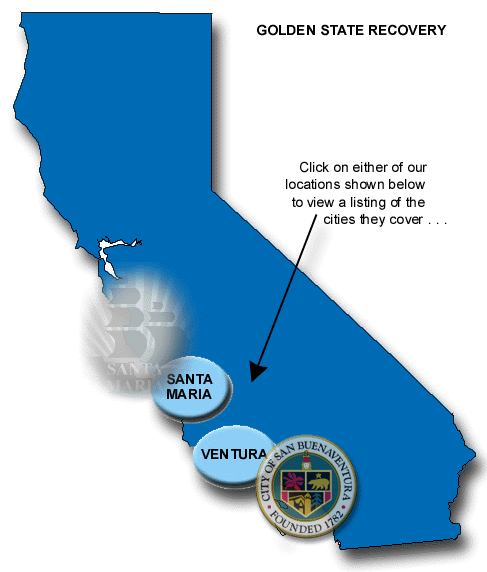 To learn more about Golden State Recovery's credentials , click on any one of the links below. Also, to help your navigation of our site, a navigational bar has been provided on each page in the upper left hand corner to help you move quickly and efficiently from one department to the next. Click on the department name and you're there! After thorough review, we trust you will conclude that Golden State Recovery is the first and only call you need to make for collateral reclamation in California.
Call us ... you'll be pleased with the result.